The last few days a heat wave has hit us and we're loving it! Im' terrible at drinking enough water though and ususally only dring anything during meals. Except coffee. I do drink plenty of coffee through out the day. 😉
This summer I'm determined to keep hydrated! I designed these water trackers to add to my planner to help me keep track of how much water I drink each day. Lots of summery colors and patterns make them a fun element in a planner as well.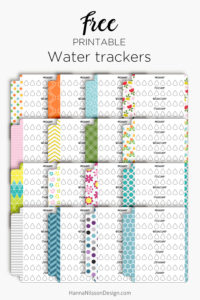 You can of course download them for free as well and start tracking your water intake.
Let's not get headaches from dehydration this summer! I think I'll print some for my son as well, where he kan color in how much water he drinks each day.
Join now and download right away!
Yes, you do need to enter your email address in order to access the downloads, but they're completely free. I promise to only send you newsletters when there's new designs added so you don't miss out on anything. As long as you keep suscribing you will also be sent the password whenever it is changed.
If you're already a member, click the button below to be taken to the member's page where you sign in.