There are few things better that waking up on the first day of a long four day weekend. So may days ahead off from work. It's a great feeling!
I don't know about you, but I never seem to have enough storage in my planner. I just want EVERYTHING with me all the time. My solution is to add a bunch of pockets to hold reciepts, stickers, notes, coupons and the list goes on.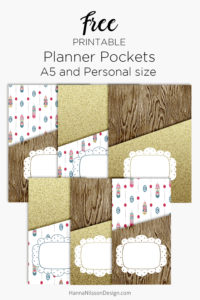 This is a set of Mix & Match planner pockets. Print and assemble in any combination you like. They come in sizes for both A5 and Personal planners. The file is a PDF with pocket base and front with cut lines. A pattern for the back is included as well.


Sign up now and download right away!
Yes, you do need to enter your email address in order to access the downloads, but they're completely free. I promise to only send you newsletters when there's new designs added so you don't miss out on anything. As long as you keep suscribing you will also be sent the password whenever it is changed.
If you're already a member, click the button below to be taken to the member's page where you sign in.