During summer I don't really make weekly menues. Because if I do, more often than not those plans get tossed when some spontaneous plans are made. We also mostly eat sallads made from whatever vedgetables we have in the fridge during summer when evenings are too warm to feel like eating anything warm. The rest of the year I love planning our dinners. This is the printable I use to write down what we're having for dinner.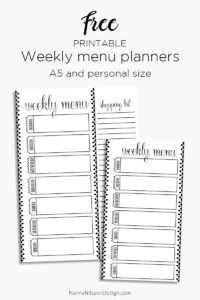 In the early stages of planning our weekly menue I write on post-it notes and attach on each day. I ALWAYS change my mind about a hundred times and using post-its makes it still look neat and not have 5 layres of text erased in every box. 😉

Print them for your planner or attach on your fridge with magnets for the whole family to see.
Download today!
Yes, you do need to enter your email address in order to access the downloads, but they're completely free. I promise to only send you newsletters when there's new designs added so you don't miss out on anything. As long as you keep suscribing you will also be sent the password whenever it is changed.
If you're already a member, click the button below to be taken to the member's page where you sign in.