In our family most birthdays are during spring. We only have a couple to celebrate during summer. Those do deserve cute gifts though and that's the reason I design these pretty floral boxes.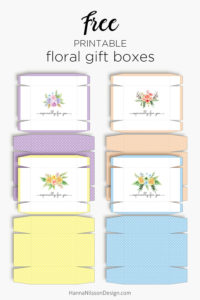 They come in four bright and happy summery colors. They'd look amazing as favor boxes, stacked in rainbow piles! Perhaps for a wedding with a pastell color scheme. What do you think, good idea? Yes, I think so. 😉

Sign up now and download right away!
Yes, you do need to enter your email address in order to access the downloads, but they're completely free. I promise to only send you newsletters when there's new designs added so you don't miss out on anything. As long as you keep suscribing you will also be sent the password whenever it is changed.
If you're already a member, click the button below to be taken to the member's page where you sign in.
Do you love these floral graphics and want to use them in your own design?
(This is an affiliate link. It does not affect the price for you)