Summer break will soon come to an end. We have two week left until teacher go back to work here, and three weeks until the students arrive for their first day of the term. I kind of look forward to getting back to our regular routine. I also love my job, my collegues and students, so going back to work after summer never feels like something I dread.
Do you know any teachers or maybe students whom you want to wish a great year? Print these tags and attach to a small gift, or giftcard for a coffee shop perhaps. It's sure to be appreciated!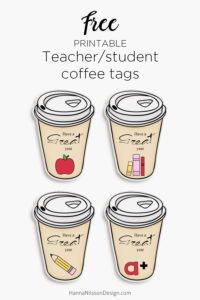 If you want tips on teacher gifts we have a pinterest board full of them to help you out. Click the button below.

Sign up now and download right away!
Yes, you do need to enter your email address in order to access the downloads, but they're completely free. I promise to only send you newsletters when there's new designs added so you don't miss out on anything. As long as you keep suscribing you will also be sent the password whenever it is changed.
If you're already a member, click the button below to be taken to the member's page where you sign in.
Do you love these coffee mug graphics and want to use them in your own design?
(This is an affiliate link. It does not affect the price for you)