My pretty Happy Planner is finally getting some love around here. Just about a year in of the 18 months it covers. 😛
These half width list inserts are perfect to add in the weekly calendar part without covering the entire week.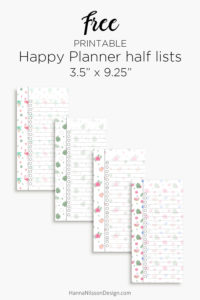 The designs are in summery colors and patterns. An attempt to keep the summer feeling as long as possible as fall is drawing nearer.

Sign up now and download right away!
Yes, you do need to enter your email address in order to access the downloads, but they're completely free. I promise to only send you newsletters when there's new designs added so you don't miss out on anything. As long as you keep suscribing you will also be sent the password whenever it is changed.
If you're already a member, click the button below to be taken to the member's page where you sign in.
Do you love these graphics and want to use them in your own design?
(This is an affiliate link. It does not affect the price for you)