Two days left. After this weekend summer break is over and life goes back to normal. I'm looking forward to it. Want to give your kids' teachers something little to start the year off? Print these gift card holders, add a gift catd and your done. So easy, so fast, and always appreciated.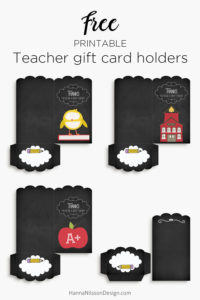 The old fashioned blackboard look is always so fun.

Sign up now and download right away!
Yes, you do need to enter your email address in order to access the downloads, but they're completely free. I promise to only send you newsletters when there's new designs added so you don't miss out on anything. As long as you keep suscribing you will also be sent the password when it is changed.
If you're already a member, click the button below to be taken to the member's page where you sign in.