Just one more day untill the weekend. So close you can almost smell it.  I'm looking forward to a calm weekend with my son. We might go out to pick some mushrooms in the woods if the weather is ok.
Fall is not a season I decorate very much for. But a simple banner om our mantle looks nice. For this design we have an artsy look where the backgroud was made in an app called Artrage. Such a fun app to play around in!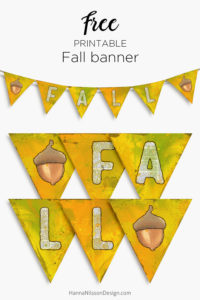 An artsy backgroud, acorns and letters in newsprint makes up this fun design.

Sign up now and download right away!
Yes, you do need to enter your email address in order to access the downloads, but they're completely free. We promise to only send you newsletters when there's new designs added so you don't miss out on anything. As long as you keep suscribing you will also be sent the password when it is changed.
If you're already a member, click the button below to be taken to the member's page where you sign in.