Fall is the prefect season to sit and color. The weather here has been WET this past week. Most of our free time has been spent indoors, on our couch, with some candles lit on the coffee table and in the fireplace. Sitting together coloring is very cozy!
The coloring bookamarks that we shared back in February has been one of our most popular printables. It's about time to add another set don't you think?!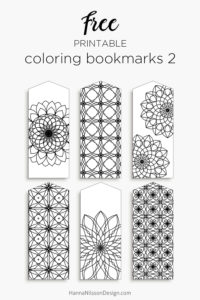 A mix of pretty patterns and mandalas just as in the first set (That you can find HERE), but in a slightly differently shaped top.

Sign up now and download right away!
Yes, you do need to enter your email address in order to access the downloads, but they're completely free. We promise to only send you newsletters when there's new designs added so you don't miss out on anything. As long as you keep suscribing you will also be sent the password when it is changed.
If you're already a member, click the button below to be taken to the member's page where you sign in.
Having trouble subscribing or signing in? Please read our FAQ.
Do you like to color? Chech out all of our coloring sets.