Writing up the first post of 2018 feels great! Another year ahead of free printables. Yay!
As our fist printable added this year we have a set of tags to add to handmade gifts in no less than 8!!! versions.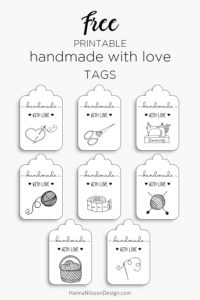 There are tags for gifts that are knit, crochet, sewing, paper, yarn or fabric. An 8 page pdf file where you can pick and choose your favorite tag to print.

Sign up now and the password to the members page will be sent right to your inbox!
Yes, you do need to enter your email address in order to access the downloads, but they're completely free. We promise to only send you newsletters when there's new designs added so you don't miss out on anything. As long as you keep suscribing you will also be sent the password when it is changed.
If you're already a member, click the button below to be taken to the member's page where you sign in.
……………………………………………….
Do you love these graphics and want to use them in your own design?
(This is an affiliate link. It does not affect the price for you)
……………………………………………….
Having trouble subscribing or signing in? Please read our FAQ.