Today, my son went back to school after Christmas break, and we're finally back to ordinary. With that comes all the usual routines. For me, making a menu plan for the upcoming week is an important routine. A new set of printable menu plans felt like about time.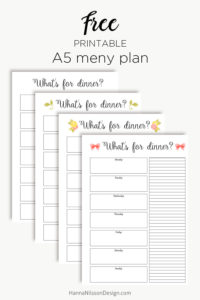 This set contains four different designs; one plain and three with cute graphics.
Sign up now and the password to the members page will be sent right to your inbox!
Yes, you do need to enter your email address in order to access the downloads, but they're completely free. We promise to only send you newsletters when there's new designs added so you don't miss out on anything. As long as you keep suscribing you will also be sent the password when it is changed.
If you're already a member, click the button below to be taken to the member's page where you sign in.
……………………………………………….
Do you love these graphics and want to use them in your own design?
……………………………………………….
Having trouble subscribing or signing in? Please read our FAQ.