The time has come to reveal something brand new. Those of you who subscribe to our newsletter got a sneak peek of a new planner calendar design this weekend, and today we share our first two printable versions. Both winter themed but in different color schemes.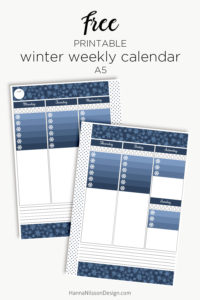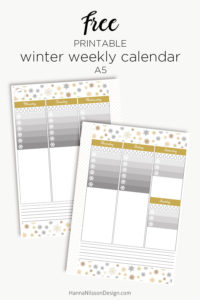 These sets of weekly planner calendars are A5 sized with plenty of room for a to-do list every day as well as space for appointments + a water intake tracker everyday as well.


More versions are coming over the next few weeks and months. If you love them and want to ask sor a specific color scheme or theme, leave a comment to let me know.
……………………………………………….
Sign up now and the password to the members page will be sent right to your inbox!
Yes, you do need to enter your email address in order to access the downloads, but they're completely free. We promise to only send you newsletters when there's new designs added so you don't miss out on anything. As long as you keep suscribing you will also be sent the password when it is changed.
If you're already a member, click the button below to be taken to the member's page where you sign in.
……………………………………………….
Do you love these snowflake patterns and want to use them in your own design?
(This is an affiliate link. It does not affect the price for you)
……………………………………………….
Having trouble subscribing or signing in? Please read our FAQ.