A few years ago I couldn't stand the color pink and now it's one of my favorites. Isn't it funny how what we like and don't like can change drastically over time? It's also super interesting to me to see which of the printiables we share here become popular. Sometimes I can tell in advance what will and won't be a hit and sometimes I'm very surprised.
Today we have another planner calendar insert for you. Such pretty pink and green colors on this one, and a LOVELY rose pattern.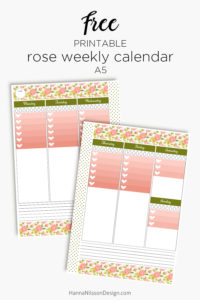 These inserts fit an A5 planner  perfectly and because each page is centered on a larger sheet of paper for printing, nothing gets lost if your printer can't print all the way to the edge.

Sign up now and the password to the members page will be sent right to your inbox!
Yes, you do need to enter your email address in order to access the downloads, but they're completely free. We promise to only send you newsletters when there's new designs added so you don't miss out on anything. As long as you keep suscribing you will also be sent the password when it is changed.
If you're already a member, click the button below to be taken to the member's page where you sign in.
……………………………………………….
Do you love these graphics and want to use them in your own design?
(This is an affiliate link. It does not affect the price for you)
……………………………………………….
Having trouble subscribing or signing in? Please read our FAQ.