This time in February we have a week's break from school here. Since I'm a teacher I have a break too and am spending the week with my son. We start the week off by taking a long breakfast and watching the Olympics.
Valentine's day is only two days away. I'm sweezing in a little last minute valentine's designing before then. Printable sticky notes are so fun!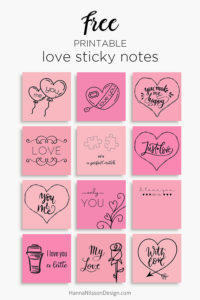 Windering how to print on sticky notes?
1.Start by printing page one in the pdf file.
2. Add sticky notes in the squares and place in your printer.
3. Then print page two or three on top of the sticky notes. It's that easy!

Sign up now and the password to the members page will be sent right to your inbox!
Yes, you do need to enter your email address in order to access the downloads, but they're completely free. We promise to only send you newsletters when there's new designs added so you don't miss out on anything. As long as you keep suscribing you will also be sent the password when it is changed.
If you're already a member, click the button below to be taken to the member's page where you sign in.
……………………………………………….
Having trouble subscribing or signing in? Please read our FAQ.