August is such a busy time. Time to get back to work; time for kids to start a new year at school; time for parents to get their kids off to school every morning. To change things up a bit from the pink planner calendar inserts I posted two weeks ago, I also made some with blue florals.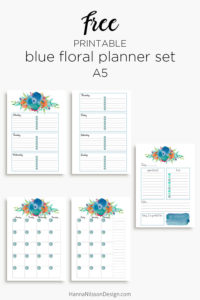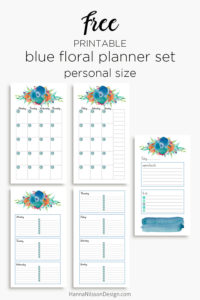 The layout is the same. Why change something that works for you?! And they're available in A5 and Personal size.


Do you like these but want to change out the titles? Check out this tutorial on how to edit PDF printables in Photoshop.
Click the image.
To download the planner pages; sign up for our newsletter. It's completely free!
Yes, you do need to enter your email address in order to access the downloads, but they're completely free. I promise to only send you newsletters when there's new designs added so you don't miss out on anything. As long as you keep suscribing you will also be sent the password when it is changed.
If you're already a member, click the button below to be taken to the member's page where you sign in.
Do you love these graphics and want to use them in your own design?
(This is an affiliate link. It does not affect the price for you)
These pink versions are also available for down load in our library of free printables.